Operation Gift Drop
Help our troops overseas -- participate in Operation Gift Drop
--More than 3,000 pounds of materials sent so far as part of American Red Cross Operation Enduring Support --
Since November, 2001 the American Red Cross of Lee County has conducted a program that supports U.S. troops overseas by sending "quality of life" items that are distributed free of charge by Red Cross personnel at deployment sites. The program, Operation Gift Drop, sends packages of personal hygiene items, snacks, candy and recreational or entertainment items for use by the troops who are deployed at sites where these materials are limited.
As of February 2003, more than 3,000 pounds of items have been sent with shipments scheduled every month to deployment sites in Afghanistan, Kuwait, Saudi Arabia and Cuba. More sites will become available as troops are assembled in various areas.
American Red Cross personnel accompany the U.S. military at deployment sites in all parts of the world, ensuring that emergency communications from family members are sent and received. They also conduct morale building activities. The packages sent as part of Operation Gift Drop are distributed free of charge at Red Cross canteens.
Click here to learn more about American Red Cross of Lee County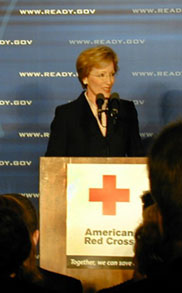 Making America Ready: The Red Cross Prepares Communities
With the launch of the Together We Prepare campaign, Red Cross chapters nationwide are employing innovative efforts to ensure the readiness of their


more...