New!
Photo Gallery
You can irrigate our grass with sea water because....
Seashore Paspalum is a halophytic plant
Halophytes are plants that are capable of flourishing under conditions of high salinity. Until now these halophytes have not been considered worthy of landscape use. Research performed at the University of Georgia, Texas A&M University, and by BFI have produced astonishing results. Not only are these grasses worthy of landscape use, but BFI has specific varieties of seashore paspalum and seashore dropseed that have been developed that can be mowed to 1/8th-of-an-inch, withstand brackish and sea water irrigation, and maintain the fine texture and color that are typical of many championship golf courses around the world.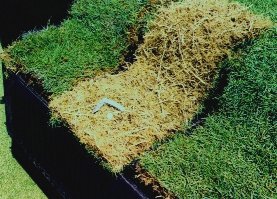 Seashore Paspalum and the root system in the middle.
Common uses:
Golf Courses (greens, fairways, tees, roughs)

Commercial and Residential Landscape (hotels, resorts, athletic fields, and racetracks)

Site Remediation (oil and gas well sites)

Soil stabilization and reclamation (beach fronts, dunes, erosion control)

Wetlands restoration

Coastal Areas where freshwater sources are scarce or non-existent. (Islands, Lesser Developed Nations)

Replaces Bermudagrass
Barbuda Farms International

Codrington Village, Barbuda
Antigua-Barbuda, West Indies
Email: barbudaturf@yahoo.com