The Golf Course wouldn't grow no mater what......
After 5 years of hard struggle, a man in love with golf and his wife with the nicest beach of the Caribbean were on the verge of giving up on the golf course they dreamed to have on one of the driest islands of the region. Although they were rich enough the build one of the most exclusive resorts in the world just for the pleasure of spending the Christmas holidays in peace with a few good friends and high end clients they had pumped a huge amount of very expensive desalted water just to find them selves still hoping for some good rain in order to get a decent looking golf course not to mention playable. .
The introduction of Seashore Paspalum
After Realizing the magnitude of the problem they were facing in 1994 a young and promising golf superintendent proposed the use of Seashore Paspalum which he new could stand similar conditions. He tried for a few months to establish the grass but after a while he decided to go back to the States to teach at A & M Texas University and eventually had the luck to meet other enthusiasts of Seashore Paspalum and formed a company called ETS. Meanwhile in Barbuda things went on as painful as usual. No water, bad soil condition no grass. A French company came in with their water saving landscaping project. Basically the strategy was to keep the precious water for the greens and small parts of the fairways. The French lasted one year, the golf still looked bad and they were gone with the Trade winds. In May 1998 the promissing golf superintendent and his new Florida based company was called back, he joined with Barbudian, David Shaw, to form the Barbuda Turf Company BTC in Antigua & Barbuda ( W.I.).
Finally the Results...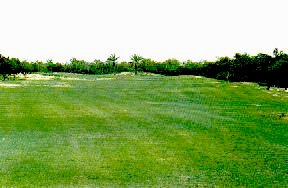 The Golf Course after the use of Seashore Paspalum
The key to their operation was the development of a nursery with several varieties of salt-tolerant turf grasses: Seashore Paspalum, (Paspalum vaginatum) Seashore Dropseed, (Sporobolus virginicus) and Saltgrass (Distichlis spicata). These grasses were irrigated with seawater and for some periods not irrigated at all. These miracles of nature were as tough as the merciless environmental conditions and maybe even more but you could still feel the texture soft and gentle as the sweet Caribbean Trade winds . After one year of plain seawater and even no irrigation at all due to the fact that for a few months the resort's maintenance had major problems with the irrigation system, today the golf course is at the top of it's possible condition.
But where lies the secret of such a success? How is it possible to grow grass with sea water? Real grass not plastic as some still tend to think hearing about the incredible qualities of our grass. Visit the other pages man!
Barbuda Farms International

Codrington Village, Barbuda
Antigua-Barbuda, West Indies
Email: barbudaturf@yahoo.com