West Coast Nets has been supplying the fishing industry with the highest quality cast nets available. Over 35 years of net building experience assures you that time and care has gone into making your net. We use commercial grade netting and component hardware when constructing our nets. Then we apply cast net building techniques which have been proven over time and we deliver a product which you can depend on for all your bait catching needs. Our solid manufacturer's warranty and top quality net service department will help keep your net in ready working condition.
LIMITED LIFETIME WARRANTY ON MANUFACTURER'S CONSTRUCTION OF NETS
Our casts nets are GUARANTEED to be free from manufacturers defects at time of purchase. Please inspect your net at time of purchase and prior to use. West Coast Nets will warranty manufacturers defects from normal use of this product. Defects arising from manufacturers flaws will be handled as follows: West Coast Nets reserves the right to repair said defects. If defects can not be repaired, we will replace the net for the life of the net or until manufacturer ceases production of product style or model. Please call West Coast Nets at 1-866-249-6387 for instructions on returning defective products. Warranty does not apply to damage from misuse or improper use of product. Rips and tears arising from use or improper care will be considered normal wear and tear and will not be covered by the above mentioned warranty.
---
Home | History | Classic Pro | Captain's Choice | True Spread
Magnum Bait Nets | Videos & Other Products | Contact Us
WEST COAST NETS, INC.
930 S.E. 9th Lane
Cape Coral FL 33990
Phone: (941) 573-1175
Fax: (941) 573-1108
Orders Only: (866) 249-NETS
Email: Sales@westcoastnets.com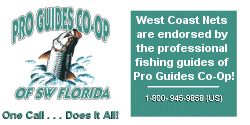 You are visitor to our site

Websites by
Lade's Internet Service, Inc.