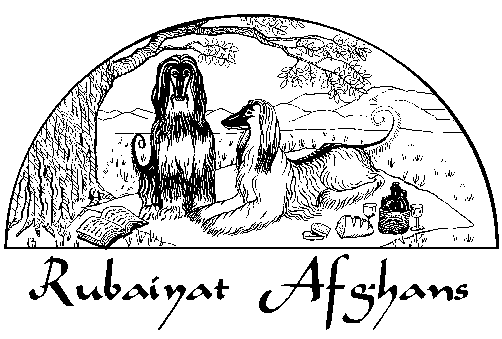 Lesley L. & Walter Peterson · 967 Nott Road · Cape Coral, FL 33991

About Our Kennel ("And what the heck is a Snoo?")
Photo Gallery
Please Sign Our Guestbook!
"Wind Across The Plains" (Song Lyrics)


Holiday Sighthound Song!

Afghan Hound Lovers Club!
Meet, message and chat with fellow Afghan Hound enthusiasts

The Virtual Dog Show
The next best thing to being there...
...should be fun!
Afghan Hound Club of America
American Kennel Club
Other Dog Related Sites

---
Do you wish to add an Afghan Hound to your family, but are not sure how to find a reputable breeder?
The Afghan Hound Club of America maintains a breeder referral.
Contact Norma Cozzoni, 43 W. 612 Tall Oaks Trl. Elburn, IL 60119.
She will be happy to help you!


Our thanks to Brenda K. Jones and Stone Fort Rottweilers
for granting Rubaiyat Afghans recognition for HomePage excellence!


"A Book of Verses underneath the Bough · A Jug of Wine, a Loaf of Bread, and Thou"
-- from The Rubaiyat of Omar Khayyam

For more information about Afghan Hounds,
or just to say hello, send email to Lesley (or the Snoos) at:

lesley@rubaiyat.org
---
This page has been accessed
times since 5/24/1996