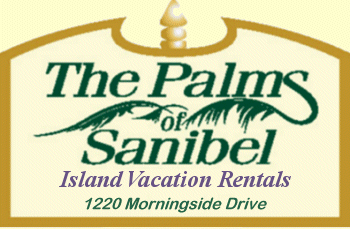 Sanibel Island, Florida 33957
Our Location
We provide this section of our website so that you can get a feel for where we are located. We do this in two ways. First, we have several maps that let you zoom in to Old Town Sanibel and our position relative to the island's geography. Second, we provide a sequence of aerial photos which will let you visually zoom into our location. Please select a method below.
Getting Here...By Air
Southwest Florida International Airport (941)768-1000; located in Lee County, off Exit 131 on Interstate 75, providing direct access to Sanibel-Captiva via an easy 45-minute drive. The airport is served by nearly all major airlines.
Orlando International Airport (407)825-2001; located 7 miles south of Orlando; take I-4 south to I-75.
Miami International Airport (305)876-7077; located 5 miles northwest of Miami; take I-75 west.
Fort Lauderdale/Hollywood International Airport (305)357-6100; located 4 miles south of Fort Lauderdale; take I-75 west.
Getting Here...By Car
Interstate 75; Take Exit 131 (Daniels Parkway) west to Summerlin Road. Then follow Summerlin Road to the Sanibel Causeway (a $3 toll). Drive across and onto Sanibel Island. At the four-way stop sign at Periwinkle Way, either a right or left turn will lead you to beaches, shops, accommodations, etc.
Interstate 95; If you're driving into Florida from the North via Jacksonville, take I-95 south to I-4; take I-4 west to I-75, then follow the directions above. If you're on Florida's east coast and choose to bypass the Orlando and Tampa areas (both off I-4), take I-95 south to Fort Lauderdale and follow the signs directing you to I-75 west (toward Naples).
Car Rentals; You'll need a valid driver's license, proof of auto insurance and a major credit card. (Some rental agencies have minimum age requirements, too) Nearly all major car rentals are available at Southwest Florida International Airport; it's best to make reservations before you arrive.
City
Distance (miles)
to Sanibel-Captiva
City
Distance (miles)
to Sanibel-Captiva
Clearwater
145
Orlando
175
Daytona Beach
230
Palm Beach
144
Ft. Lauderdale
155
Sarasota
90
Gainesville
250
St. Augustine
270
Jacksonville
305
St. Petersburg
130
Key West
290
Stuart
155
Miami
235
Tallahassee
375
Naples
45
Tampa
145
Ocala
215
Home | Exterior | Rates | Interiors | About Us | Local Links | Guest Book
The Palms of Sanibel
Hosts: Don & Gloria - John & Laurie
1220 Morningside Drive
Sanibel FL 33957
(239) 395-1775 (Voice)
(239) 395-3379 (FAX)
E-Mail: Palms3951775@aol.com