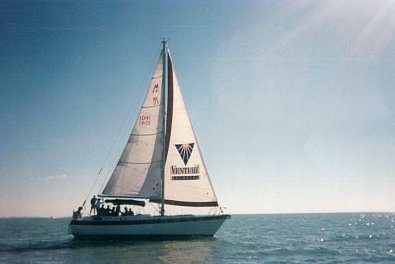 41 Morgan Classic "Light Sea" under sail
Welcome to the South Florida Sailing Charters homepage. We offer bareboat and crewed charters aboard quality yachts. Our primary objective is to provide first rate, fully-equipped and maintained sailing vessels at attractive rates. We believe that southwest Florida offers some of the best cruising grounds in the world. Whether you are a seasoned sailor or a beginner, we have the boat and itinerary for your sailing vacation.
Setting sail from our home port at Fort Myers Beach, Florida, you can explore the unspoiled beauty of southwest Florida. Our cruising grounds span from Tampa Bay to the north and to the Florida Keys and Key West to the south. When the day's sail is done, stop at one of the quaint marinas or simply anchor out in the lee of a beautiful sandy beach for some shelling.
We would be glad to help tailor your Florida sailing charter vacation to your individual needs. Whether you are planning a two or three day weekend getaway, a seven day extended cruise, or a combination sailing/condominium vacation, we can help develop an itinerary to fit your sailing holiday.
South Florida Sailing
Salty Sam's Marina
Fort Myers Beach, Florida
for information: Phone: Toll Free (800) 444-5915
Fax: (217) 498-5915
E-mail: RTpete809@aol.com
[Home] [About Us] [Boats] [Destinations] [Bareboat] [Crewed] [Condo/Sailing] [Booking] [Helpful Links] [Customer Feedback] [Day Sails]
Websites by
Lade's Internet Services, Inc.