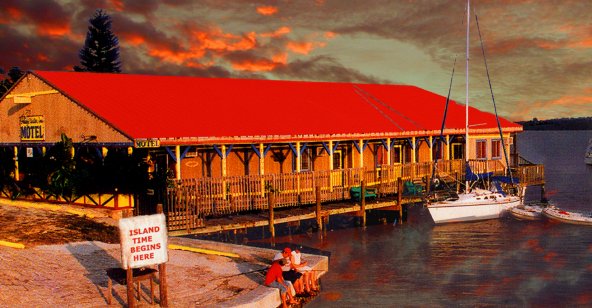 Spend your next vacation right out on the water within a stone's throw of the "Fishingest" Bridge in Florida
Waterfront Vacation Rentals on Pine Island Florida
A Waterfront Vacation Rental Where You Truly Stay "Inn" the Water.
"Unique" only begins to describe the Bridge Water Inn and Bay Front Cottages experience. "On the water" takes on its true meaning here.

Most rooms have a fabulous view of open water and the historic Matlacha fishing village. Come by land or by sea and dock your boat room-side. Fish, birds, dolphins and manatees share these waters with an "Old Florida" fishing and crabbing fleet. We are proud to have been selected as one of Lee County's Superior Small Lodgings.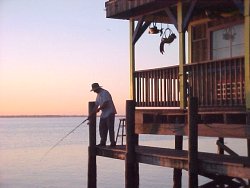 You will relax to the soft call of the birds, the lapping of the waves outside your door and an ambiance that can only be experienced, not described. Enjoy the best dolphin and manatee watching in the area from the decks surrounding the Inn or from your waterfront room. Take a picturesque walk to Island-inspired shops. You will discover a community of artists and craftsmen who own and display a wide variety of their handiwork. Chat with friendly and colorful Islanders, sit in on live music jams, enjoy a fresh seafood snack or dinner, or just "cocoon" and hang out in the hammock.


Walk out your waterfront room and look down. Abundant fish are just outside your front door under your deck, or steps away at the "Fishingest Bridge in the World". There's "Flats" fishing for Snook, Redfish and Trout, and nearby Charlotte Harbor has world class Tarpon to be caught. Charters are available and the summer fishing is fabulous!


Friendly year round island folk and visitors alike have discovered that Matlacha and Pine Island are very special places. In order to preserve the rural nature of the Island a building code bans new construction once traffic levels reach a set threshold. This foresighted plan makes travel to the Islands a great experience now and guarantees the same for future generations.
Legendary Florida weather is even better here on the islands as the surrounding waters moderate the temperatures. Winter days are 5 degrees (F) warmer while summers are 5 degrees cooler than inland.
Tropical fruits not found elsewhere in the continental USA grow in the Pine Island area. In season you can find papaya, pineapple, orange, grapefruit, star fruit and prized Pine Island mangos. There is even a Mango Festival in the summer!

Check our rates, reserve your waterfront vacation rental on Pine Island then begin exploring the nearby islands and secluded beaches. Whether you board a charter or rent a boat to navigate your own course, Bridge Water Inn stands ready to help you with all of your Island arrangements. Check out our Directions Page to see how to get here by car. If you are coming by boat call us and we can provide you with details on navigation. Bridge Water Inn is a family owned and operated resort and we look forward to helping you plan your Island vacation. For more information you can fill out the form on our Contact Us Page, call us or E-Mail us with any questions you may have.
Home Page | Accommodations | Rates | Events | About Us | Links | Contact Us | Directions
Bridge Water Inn
Osi & Steve McCarney
4331 Pine Island Road Matlacha FL USA 33909
(239) 283-2423 (Voice) (239) 282-8440 (Fax) (800) 378-7666 (Toll Free)
Email: info@bridgewaterinn.com
Websites by
Lade's Internet Service, Inc.