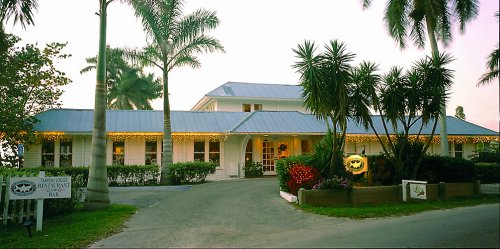 Tarpon Lodge and Restaurant
Tropical Vacation Accommodations and More!
Relax while experiencing the "Old World" charm of our 1926 historic Tarpon Lodge on Pine Island Florida, nestled against Florida's pristine Southwest coast. Enjoy our panoramic waterfront views, our four-star restaurant, and our unique amenities at our family-friendly vacation accommodation!
Pine Island offers many enjoyable activities, including outstanding fishing and boating, an excellent golf course, a local museum, nature trails, and art galleries. Visit the pre-Columbian Indian mounds of the ancient Calusa civilization right across the street!
To enhance your vacation experience, day trips to deserted beaches and guided trips for shelling, kayaking, flying and exploring are available. A true treat is had by boating to our sister resort, Cabbage Key!
Pine Island is accessible by boat and by auto. We are just a short drive west of Ft. Myers and Cape Coral in Lee County. The Lodge is located 60 minutes from the Southwest Florida Regional Airport.
The Tarpon Lodge is a historic landmark in a breathtaking environment! With 21 quaint and comfortable rooms, an outdoor pool, beautiful sunsets, warm breezes, and an award winning restaurant, this best kept secret is a dream come true for fishing, boating, birding, swimming, golfing, reading, and, simply, relaxing.
Adjacent to The Tarpon Lodge is the Pineland Marina where, by boat, the islands of Cabbage Key, Useppa, Boca Grande, Sanibel, Captiva, and the spectacular beaches on Cayo Costa are a "shell's throw" away.
Whether you're looking for active or peaceful days and nights, make your vacation plans with us .... where we take care of you so you'll remember us!
[Accommodations] [Contact Us] [Local Links] [Location] [Restaurant] [Events] [Press]

Tarpon Lodge
13771 Waterfront Drive
P.O. Box 410
Pineland Florida 33945
Tel: (239) 283-3999
Fax: (239) 283-7658
Email: tarponlodge@msn.com
Accommodations, restaurant and lounge are non-smoking facilities.
"No Pet" policy on our premises. Thank you for your cooperation!
Websites by
Lade's Internet Services, Inc.