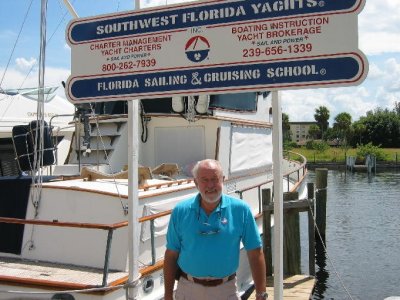 Captain Vic and his sales team are ready to help you find
the yacht of your dreams or sell the boat you have now.
Florida Yacht Sales - A Full Service Yacht Brokerage
Sailboats and Powerboats For Sale
Let the SW Florida Yacht Sales team assist in the purchase or sale of your sailboat or power boat. We are the best and most complete yacht charter and yacht brokerage company in the area. Our sister company, The Florida Sailing and Cruising School is one of the country's premier sail and powerboat training schools. We have been in business for 20 years and we invite you to take advantage of our experienced staff of marine professionals.
Our yacht sales team has a select number of boat listings and handle only quality vessels that have been well maintained. Most of the yachts we have for sale are conveniently located in the Fort Myers area, making it easy to view a number of sailboats or power yachts without traveling long distances. Southwest Florida is a marine center and Southwest Florida Yachts has been a leader in the industry for two decades. We will also search far and wide for the sail or powerboat that best meets your needs. Buying a boat should be a fun and exciting experience and the SFY team can help you find the yacht of your dreams. Our office also offers personal assistance with yacht financing, marine insurance, vessel maintenance, and much more!
If you are interested in selling your boat, let the SFY team work for you. Whether you are moving up to a larger boat, downsizing to a smaller vessel, or taking a break from boating altogether, we can help. Our staff is available seven days a week to handle all aspects of the sales process.
The SFY Yacht Brokerage Office is more than just a place to buy or sell your boat. You will receive personal attention and assistance with all aspects of yacht ownership. We offer both Private and Charter Yacht Management Programs for your vessel after your purchase is complete. Our salesmen will be happy to set up a program that meets your needs.
For the experienced cruiser, Southwest Florida Yachts also offers sailboats, trawlers, and motor yachts for charter through the barrier islands of Sanibel, Captiva, Cayo Costa, Gasparilla, and all of Southwest Florida. If you are new to boating, may want to combine a cruise with an opportunity to learn how to safely operate a vessel. We offer both sail and power boating liveaboard courses with licensed Captains and Instructors.
For the latest news and information from Southwest Florida Yachts you may want to read our newsletter, THE YARDARM or sign up for our E-YARDARM for periodic E-mail updates. Additional boating-related information is available on our Industry Links page.
Whether you are looking for yacht charters, boating instruction, someone to manage your vessel, a boat to buy, or have a boat to sell, Southwest Florida Yachts can help. We look forward to having the opportunity to serve all of your boating needs soon! Please give us a call at 800-262-7939 or 239.656.1339. Our office is open 7 days a week.

Would you like to stay informed about all our new yachts, great deals etc... Sign up to receive our FREE e-mail newsletter. Just click on the button below, then click Send from your email program. It's that simple!




Your Passport to Yacht Sales & Brokerage
6095 Silver King Blvd • Cape Coral • Florida 33914
(239) 656-1339 (800) 262-7939 Fax (239) 656-2628
E-Mail: info@swfyachts.com

Tarpon Point Marina 26° 32' 14" N; 82° 00' 06" W
©1989-2013 Southwest Florida Yachts, Inc. All Rights Reserved. This website contains
original copyrighted graphic and textual material created and owned by Southwest Florida Yachts., Inc.
Reproduction and other use of this material without the express written consent of Southwest Florida Yachts, Inc. is prohibited.
Home | Sales | Contact Us | Our Crew | Charters | Education | Find Us | Buying/Selling Tips
Why Use a Broker | Our Customers | E-Newsletter | Yardarm Newsletter | Industry Links
Websites by
Lade's Internet Service, Inc.