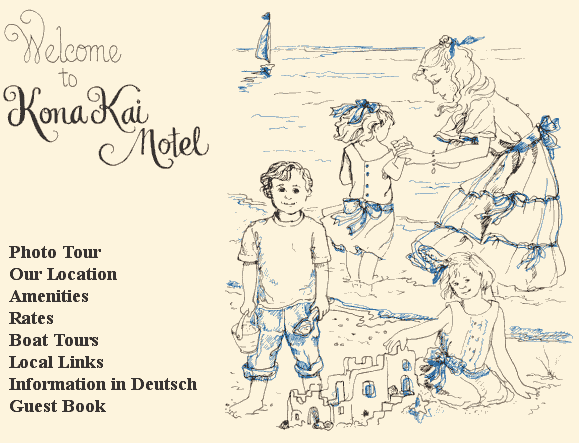 The Kona Kai Motel, one of Sanibel Islands' friendliest motels, is located in a beautiful garden setting. Our Sanibel vacation rentals include motel rooms, efficiencies and suites. The suites accommodating up to six people make it perfect for the family. The motel is conveniently located for shopping and restaurants so you can easily walk or bike to many of the Island destinations. We have the added attraction of the Olde Sanibel River at our doorstep for exploring by canoe or fresh water fishing. We also deliver a continental breakfast to your room to get your day started right. Our large inviting pool is just one of the many amenities we offer. All of this and we boast some of the most reasonable rates on Sanibel Island. When you begin planning your next Florida vacation be sure to put Sanibel Island at the top of your list. Sanibel is a gem that must be experienced to be appreciated. You won't find neon lights and billboards but you will find an Island that is reminiscent of a time gone by. Where strolling on the beach collecting shells is an occupation and star-gazing is not hindered by the glare of city lights. Water activities abound and boating around the Island or just relaxing on the beach with your toes kissed by the torquoise Gulf of Mexico waters is a great way to unwind. Selecting a Sanibel Vacation rental is easy when you contact us. The Kona Kai Motel is a family owned and operated motel and we delight in helping you plan your Florida vacation. The staff at the Kona Kai Motel is ready to assist you with reservations. We have some of the nicest people staying at our Sanibel Island accommodation and we hope that you will join us soon.
Kona Kai Kudos! Frommer's Travel Editor Brad Tuttle selected Kona Kai Motel as 1st choice for value travel on Southwest Florida coast. The msnbc.com report on 10/15/02 coincided with the 22nd anniversary of our family owned and operated business.

Internet Specials

(Some restrictions apply. Call for Info)

Located on Sanibel Island, Florida, Gulf of Mexico. Famous for shelling beaches and Wildlife Refuge.
Kona Kai Motel
1539 Periwinkle Way
Sanibel Island FL 33957
(800) 820-2385
(239) 472-1001 Phone
(239) 472-2554 Fax
E-Mail: KonaKai@peganet.com
Websites by
Lade's Internet Service, Inc.