AmericasRealtyCorp.com
Sell Your Home Using The Internet

Our Internet Plan puts your your home out on The World Wide Web with full COLOR pictures, all the information needed to spark some interest. We will also advertise your home in the local newspaper, and provide you with a Yard Sign. Much more than this we will be right buy your side every step of the way to get you the best deal possible. We'll take care of all the paper work from offer to closing. All for a low 3.5% Commission.
Our Full Run Plan offers all of the above plus we will put your home on the Multiple Listing Service giving all the Local Realtors access to your home. All of this for a Low 6% Commission and remember you pay nothing until your home is sold.

Call us today toll free 1-888-572-6056

A Full Service Brokerage
Our Full Service Brokerage can provide all the services needed to complete your big or small Real Estate Transactions. Because we work from a Mortgage standpoint our BUYERS are PRE-QUALIFIED prior to viewing your HOME, avoiding time delays and bad transactions.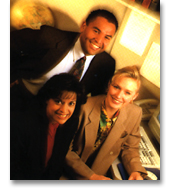 We know the in's and out's of the Real Estate business, we can point out "traps and treasures" that most people would miss, and we can help you side step mistakes that could cost you money and frustration.
Our dramatically discounted real estate commissions will help you save thousands of dollars when buying or selling a Home in Florida. Why would anyone want to pay a 7% real estate commission to a traditional real estate agency when you can allow America's Realty Corp. to save you $7,000 , $14,000, $25,000 or more? That's up to 50% savings! Use the extra money for a down payment, new furniture, home upgrades, college tuition, a second car, a vacation, etc. We'll also provide you with a list of premier professionals offering appraisals, title searches, mortgages, attorneys, home inspectors, contractors, movers, insurance agents and more.
America's Realty Corp. is comprised of an unrivaled team of real estate and financial professionals who have managed thousands of real estate transactions for over two decades.
The most obvious advantage of working with America' Realty Corp is that we won't waste a moment of your valuable time. The fact is, you want to sell or buy a house, and you want to do it quickly and effectively. You've come to the right place.

America'sRealtyCorp.com

Contact us NOW
Send us an email @ mail@americasrealtycorp.com or call 1-888-572-6056.
In the market for home Loan?
Check out America's Discount Lenders.
---
America's Realty Corp. of Southwest Florida
1625 SE 47th Terrace
Cape Coral, FL 33904
(239) 542-1404 or 1-888-572-6056
(239) 542-2660 fax
* Contact us * * Other Hot Properties *
Back to main page